Characters
Miguel Rivera
He is 12 years old. He wants to be a musician although his family hates everything about music because of his great-great-grandfather. He is passionate about music. He is an amusing and kind boy.
Coco Rivera
She is Miguel's great-grandmother. She is very old. She sometimes forgets his family members' names. However, Miguel likes spending time with her.
Dante
He is not very smart but helpful. He is Miguel's best friend. Miguel gave him this name because Ernesto De La Cruz's horse's name is Dante in one of Ernesto's movies.
Ernesto De La Cruz
He is a famous musician. He is charming and talented. He is thought to be Miguel's great-great-grandfather. He died because of a huge bell.
Imelda Rivera:
She is Miguel's great-great-grandmother. She made shoes and taught that to her family after her husband had left her with her little daughter alone.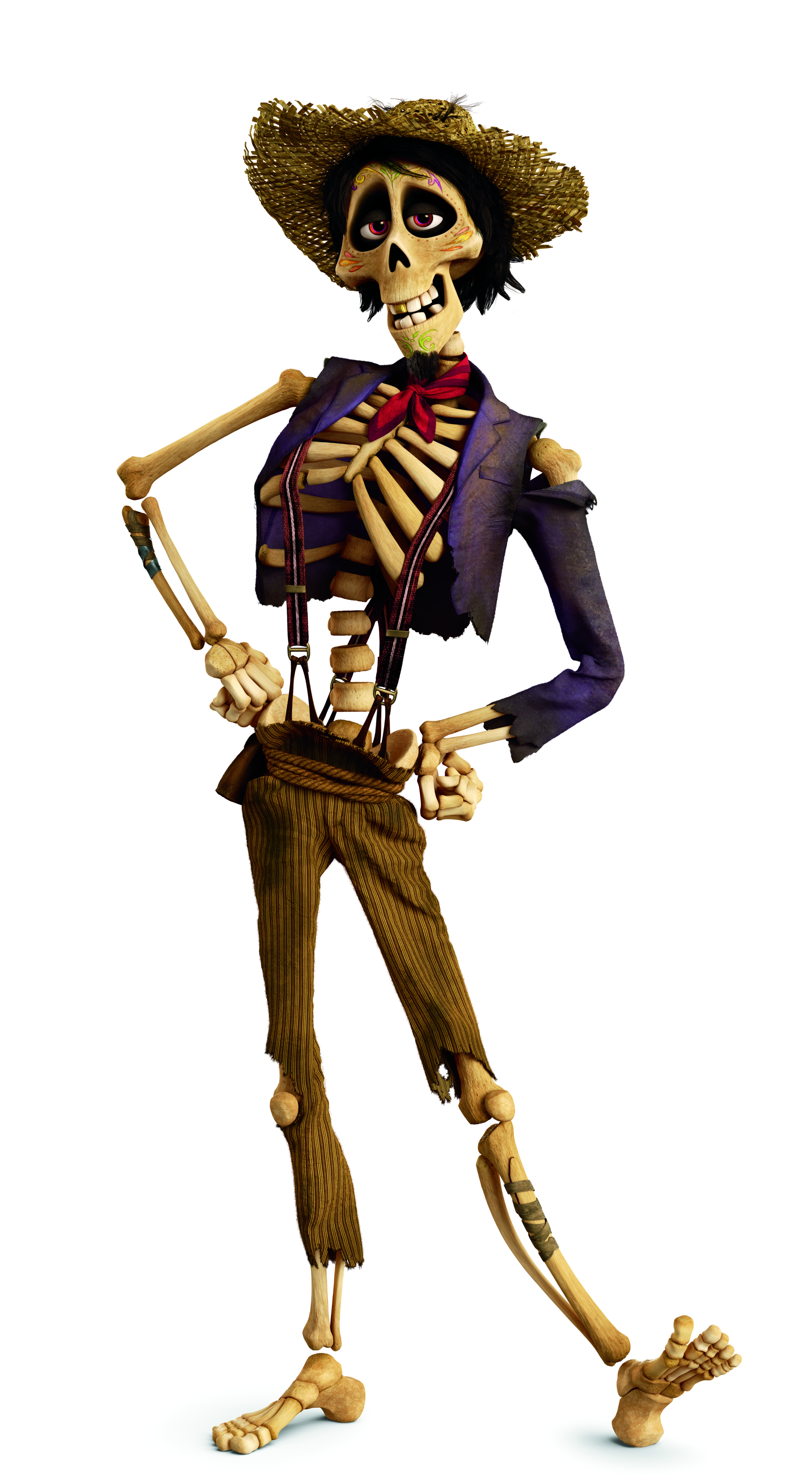 Hector:
He is nearly forgotten by his daughter. He wants to see her one more time. He wants to help Miguel because if Miguel goes to 'Land of the Living' with Hector's photograph, he might visit her daughter.
---
Synopsis
The movie starts with Miguel's family story. Miguel's great-great grandmother (Mama Imelda) stayed with her little daughter (Coco) after her husband had left them to play his songs to audience. She started to make shoes and taught that to her family. After that, it had become a family job and they hated everything about music.
However, Miguel wanted to be a musician in spite of this family job. He tried to learn how to play the guitar himself while he was watching Ernesto De La Cruz's film scenes. On 'Day of the Dead' he came into the 'Ofrendó room' and broke Mama Imelda – Mama Coco's photo frame. After he had broken it, he understood there was someone who has a guitar which was the same as Ernesto's.
Because of that, he thought that Ernesto is his great-great-grandfather. For this reason, he decided to join a talent competition and mentioned that idea to his family. They were negative about the idea so he ran away from home and tried to join the competition anyways but he needed to have an instrument. He looked around and decided to steal Ernesto De La Cruz's guitar.
As soon as he stole it, he found himself in the 'Land of the Dead'. He met his dead family members. They tried to send him back to the 'Land of the Living'. However, they wanted him to promise he would never do anything about music. He didn't accept that and ran away again. He needed to find somebody who was in his family to turn back. He remembered that Ernesto De La Cruz was from his family so he decided to find him. While he was running, he heard Hector's speech.
He told someone that he was Ernesto's old friend. After that, they met and had a plan to find Ernesto. Hector accepted to help him because Hector was nearly forgotten and he wanted to see his daughter one more time. If he helped Miguel, Miguel could turn back to 'Land of the Living' with Hector's photograph. With these events, the whole story changed unexpectedly.
---
My Review
When I watched "Coco" , I found all of the scenes quite fascinating and surprising. The movie's characters have different personality traits. We can see family relationships in this movie a lot because I think most of the events start with family arguments or lovely family scenes. We see Rivera family there. They prefer to carry on the family job. They have a tradition about that so they want Miguel to be a shoemaker. However, this does not seem appealing for Miguel because he has a different goal. Miguel wants to be a musician although his family is against his idea. I think it shows us that sometimes we can argue with our family but we should remember that our family is always ready to support us. That is to say, you can find yourself while watching it.

Also, there are friendship representations like Miguel and Hector's. I think Hector is shown as a friend for all of the characters in the movie. He doesn't only help Miguel, but he also tries to make Miguel feel more relaxed in some of the scenes. In addition, he is Ernesto's old friend.
Lots of scenes are very touching. Hector and Miguel go to someone to borrow his guitar. This is one of them. I learned that if a soul is completely forgotten, he or she completely disappears. It is called the second death. I think they try to show us that people's souls continue to live until we forget them. The movie has the most marvelous songs I've ever listened to. La Llorona is one of them. It is a very impressive and hilarious scene.
In addition, the Day of the Dead is a special day for Mexicans. They commemorate their ancestors between October 31st and November 2nd. They prepare a room which is called 'Ofrendó' and present some food that spirits love. They believe that spirits consume the essence and the aroma of the food that is offered. Alebrijes are one of the most amazing creatures in the movie. According to some sources, Alebrijes are Mexican folk art sculptures. Pedro Linares who was very ill dreamt of a distinctive place. In his dream, there are strange creatures which are called Alebrijes. After he had become healthy, he started to recreate them in cardboard and papier-mâché. In the movie, Pepita is a spirit guide that belongs to Imelda. Pepita helps the Rivera family to send Miguel back to Land of the Living. I think it is very sensible because sometimes people can't understand where their behaviors derive from. In my opinion, all people have spirit guides which help them to make the right decisions. This movie is the best animation movie of recent years for me. It really deserved to take "The Best Animation Movie" Oscar in 2017.
PHOTO CREDIT